2019 Commercial Trade Show
The L.A. Roadsters Club is once again managing the 2019 Roadster Show and Swap.
The 2019 show will be held on Saturday, June 15 and Sunday, June 16, 2019 at the Fairplex in Pomona, California.
We have a few new changes to alert you about:
Prices will be rolled back to 2016 rates




The commercial vendors will be outside only (small and large vendors)



Canopies will be available for rent, but you can bring your own push-ups





No electrical hook-ups will be available, quiet generators will be allowed





T

he commercial

vendor area will be fenced off for night security




Move-in is Friday 7:30 am to 4:00 pm. Large trucks and trailers can move-in Thursday afternoon. No Saturday or Sunday move-in.
Commercial exhibitors will enter through Gate #15 off Arrow Highway.
All Commercial Exhibitors need to be Pre-Registered before the Show Date.
Download Commercial Exhibitor Reservation Form.
All exhibitors must have a Seller's Permit issued by the State Board of Equalization and a completed form BOE 410-D. Visit their website at http://www.boe.ca.gov or contact by phone at (626) 480-7200 for more information.
Download Form BOE 410-D
(You can fill-in this form on the screen then printout)
The show will close on Sunday at 4:00 pm. For safety reasons, vendors cannot tear-down their exhibits until the show closes after 4:15 pm and all spectators have left the showgrounds.
Vendor trailers will be allowed to enter the show at 4:15 pm from the vendor parking area through Gate #15.
If you have any questions or need more information, contact the Commercial Chairmen:
Lynn Houchin
(949) 600-6056 - Home
E-mail: lynnatlar@aol.com
Ron Fairfield
(562) 598-7009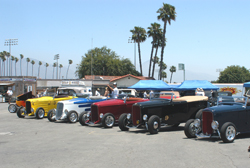 Parking passes will be issued as requested.
To pay by check or money order, be sure to include:
Payable to L. A. Roadsters

Completed registration form

Copy of your Seller's Permit

Copy of State Board of Equalization Form BOE 410-D



Mail to:
Lynn Houchin
23831 Via Calzada
Mission Viejo, CA 92691-3631


Show Program Ads

If you would like information on advertising in our Show Program, please contact:
Carolyn Diebold
(818) 888-5434
dwilson33@socal.rr.com
Updated 3-10-19