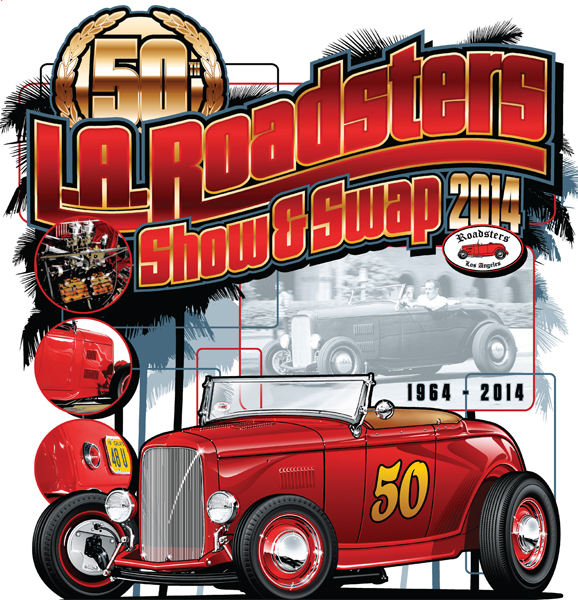 50th Exhibition
Trade Show and Swap Meet
2014 Show News

Year 2014 will be the 50th time the Los Angeles Roadsters Car Club has produced its world-renowned show and the 35th year it will be held at the Fairplex in Pomona, California. The show will be held on Father's Day Weekend, Saturday, June 14th and Sunday, June 15th for your enjoyment.
This year's 50th show will be new and exciting. The show will be located in the beautiful inner fairgrounds and in Exhibitor Building #4.
There's something for everyone at the L.A. Roadster Show. Late model enthusiasts will find the swappers and manufacturers with many of the parts they are looking for, while early car parts will be in abundance for the fellows who are restoring antiques or building that special new car. Come and see the West Coast's largest trade show, where over 200 manufacturers and vendors of reproduction hot rod parts and accessories will display their products and services. They will have their own special section outside and in Exhibitor Building #4.
By popular demand the Cacklefest is returning in 2014 and will fire up on Saturday at 10:00 am and 2:00 pm in the Specialty Parking area.
Roadsters

Enter through main Gate #1 off McKinley Avenue. The main attraction will be the hundreds of 1936 and older open cars of all types and makes; some original, some modified, but all of the highest quality and completely finished with glossy paint, painstakingly restored to the owner's preference.

Roadsters and the driver are free. Roadster passengers pay $20 for the weekend and children under 12 are free. Over 800 roadsters entered the show in 2013. No flat paint roadsters allowed in roadster parking. No cruising the fairgrounds for liability reasons.
Spectator Parking

Enter Gate #9 off White Avenue or Gate #15 off Arrow Highway. This will help minimize traffic congestion for everyone.
Show hours for both Saturday and Sunday will be 7:00 am to 4:00 pm. There will be tram service available.
Admission is $20 per person/per day or two-day pass for $35 per person. Children under 12 are free.
There will be tram service available during show hours from one end of the show to the other.
Specialty Parking

Enter Gate #17 off Mc Kinley Avenue. Specialty parking is for Pre-75 cars only. Classics, hot rods and other special interest cars will be entered in this large parking area, forming a huge car show. This is also a perfect area to enter cars for sale because it has become a known fact that this is the perfect place to buy or sell a cool car.
Admission is $10 per car, $20 per person per day or two-day pass for $35 per person. Childen under 12 are free.
Swap Meet

Swap sellers - enter Gate #15 off Arrow Highway. Move-in is Friday 10:00 am to 4:00 pm, Saturday 6:00 am to 4:00 pm, and Sunday 6:00 am.
Swap Meet buyers - can park at Spectator Parking Gate #9 on White Avenue or Gate #15 on Arrow Highway.
A tram will be available to the Swap Meet area and return for transporting parts. Your Gate #9 parking ticket will provide entrance at Gate #15 for large item pick-up only.
For Swap Meet information, click the tab below.

Commercial Exhibitors

Enter Gate #15 off Arrow Highway. Commercial Exhibitors move-in is Friday 7:30 am to 4:00 pm only. No Saturday or Sunday move-in. Contact .
For more Trade Show information, click the Commercial Trade Show tab below.


2014 Show Souvenirs

Due to overwhelming requests, reorders of some of the 2014 show souvenirs have been placed.
Click here for more information


50th Annual Show Pictorial
Rodding USA is proud to announce their association with the Los Angeles Roadsters and the production of the Los Angeles Roadsters 50th Annual Show and Swap Pictorial.
Click her for more information
Lodging

Many hotels in the area are offering special rates for our guests. Check with the following hotels:
Sheraton Fairplex
(headquarters hotel)
601 West McKinley Avenue Pomona, CA
(909) 622-2220
Visit their website at:
www.fairplex.com/fp/
accommodations/
sheraton_fairplex.aspx


Hotel Claremont & Tennis Club
Claremont
(909) 621-4831


Doubletree by Hilton
Claremont
(909) 626-2411


Sheraton
Ontario Airport
(909) 937-7458


Hilton
Ontario Airport
(909) 980-0400


Shilo Inn
Pomona/Diamond Bar
(800) 222-2244

Best Western
Diamond Bar
(909) 860-3700


Ayres Suites
Diamond Bar
(909) 860-6290


Aloft
Ontario-Rancho Cucamonga
(909) 484-2018


Hilton Garden Inn
Rancho Cucamonga
(909) 481-1800


Guesthouse Hotel & Suites
Upland
(909) 949-4800


Hyatt Place
Ontario Mills
(888) 492-8847


Marriott Courtyard
Hacienda Heights
(626) 965-1700


Fairfield Inn & Suites
by Marriott
West Covina
(626) 678-8988


Best Western
Glendora
(626) 335-2817


Recreational Vehicles

The Fairplex KOA/RV Park is located at 2200 N. White Avenue (across the street from the Fairplex). For reservations call (888) KOA-4230 or visit their website at:
www.fairplex.com/fp/
accommodations/ KOA.aspx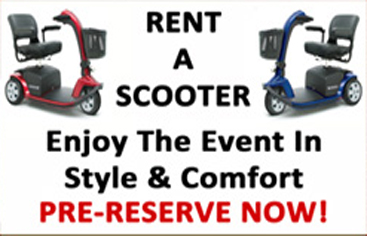 Rent a Scooter or Wheelchair

Again this year, Electric Scooter and Manual Wheelchair rentals will be available from One Stop Mobility. They were a big success last year, so be sure to pre-reserve yours in advance and it will be waiting for you at the show spectator entrance.
Enjoy the show in style and comfort. Click here to pre-reserve now!
Show Program Ads

If you would like information on our Show Program, please download the Advertising Rate Sheet.

To place an ad, contact our Program Coordinator.

Show Hotline

24-hour message and voicemail
(310) 544-4200.


Club E-Mail

laroadsters@yahoo.com



Show Chairmen
Doyle Gammell (Chairman)
(310) 265-9100

Carl Maurizi (Co-Chairman)
(818) 307-4672
Special thanks to our
Show Sponsors: